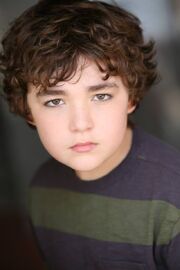 So, I was watching Under the Dome, a couple days ago, and this kid came on that looked like the little kid Daryl saved in the Season 4 trailer.  So, I found the kids Twitter and he confirmed he was in the WD. 
Here is his Twitter: https://twitter.com/LukeADonaldson
Ad blocker interference detected!
Wikia is a free-to-use site that makes money from advertising. We have a modified experience for viewers using ad blockers

Wikia is not accessible if you've made further modifications. Remove the custom ad blocker rule(s) and the page will load as expected.