Okay guys I've been trying to keep up to date with all walking dead news while completeing abundance of coursework, and I am starting to see a intresting pattern. Now spoilers ahead but take a look at the photos.
 Okay first off, I know it's hard to see but the bottom left has Daryl and someone I don't know.. (Eugene?)
Anyway, look at all these photos. They all have train tracks. Now my intial thoughts are the next season half will be like Telltales 400 days, all taking place along one place but with different people. And then they would all meet up along this railroad. Now I know this is just a guess but I think it's likely.. Tell me what you think below!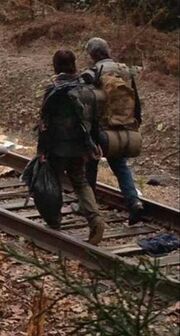 Ad blocker interference detected!
Wikia is a free-to-use site that makes money from advertising. We have a modified experience for viewers using ad blockers

Wikia is not accessible if you've made further modifications. Remove the custom ad blocker rule(s) and the page will load as expected.