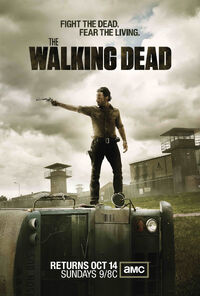 Holy moly, Walking Dead fans!!! The 9pm ET premiere got 10.9 million viewers and a 7.4 HH rating making it the highest rated episode in series history!! For the whole night, the numbers are 15.9 million viewers/10.7 HH. Looking at these numbers, it is up more than 50% when compared with Season 2!!
Now, Season 3 of our favorite show reigns as the BIGGEST telecast for drama in basic cable history among ALL viewers!!!
In addition to that piece of news, the season two premiere of Talking Dead at 11pm attracted 2.1 million viewers, growing 85% over the season one premiere!!
How amazing is that?!?
Did you watch the episode that broke records??
---
---