I love the Terminus posters; I'll probably get 'em printed for my room since I love 'em so much.
Anywho, the posters may be signalling something about the finale; people with 'Who Will Survive' posters are going to die. If Carol, Tyreese and Rick, Carl and Michonne meet up(after the possible attempted rape--in promos, not spoilers) Carol's sacrificial death to save Judith or Carl would end her run with Rick perfectly. Beth may also die as we know, though she WILL be seen alive in the finale.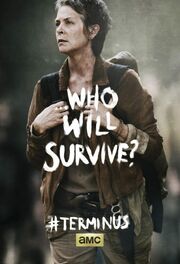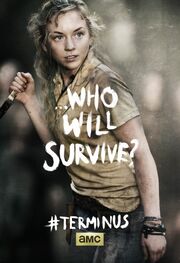 The only flaw in my prediction is that Glenn has already arrived at Terminus.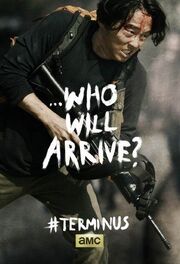 And here's a poster of Carl, Michonne and MR HAWTY OF THE YEAR OMG SO SEXY(a.k.a Rick)
BLAHGING EES FAHN! 
SWAG YOLO PEACE OUT 
Delonjnaidu (talk) 07:27, March 28, 2014 (UTC) 
Ad blocker interference detected!
Wikia is a free-to-use site that makes money from advertising. We have a modified experience for viewers using ad blockers

Wikia is not accessible if you've made further modifications. Remove the custom ad blocker rule(s) and the page will load as expected.