hey guys this is a blog post that talks about many theories and speculations. as many of people got irritated when i wrote several blogs (more than three sometimes), and do not give anyone  else or the other blog posts to be featured on the home page so i decided to create a collaborative blog that has several blogposts.
first of all.
WHAT IF THE GOVERNOR CAUSED THE DEATH OF LORI GRIMES INSTEAD OF ANDREW?
what if the Governor was the one who caused the death of Lori Grimes. and by that Lori would be alive after the event of Killer Within, and then got killed, hmm.. let's just say the Governor's first assault? what will happen? will Andrea would try to make a peace solution between both groups? or, she would stick with rick and the second half of the season 3 wil become a non-crappy full of action story?? 
give me your thoughts on the below comments post.
second.
the worst death in the walking dead TV series universe?
the last.
Scott Caan as Negan in the upcoming season?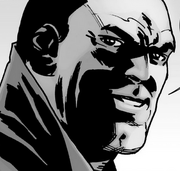 this is just a speculation for fun only.
tell me what you thought about the actor possibilites to potray the character.
does he suit the bill to become Negan in the TV series?