Hey. Most of us know, the episode titles have been released, and there has been a lot of confusion because people have been posting multiple links with different episode titles.
Not long ago, Glen Mazarra confirmed on his Twitter as a reply to a Tweet what the episode titles where. And even posted a picture with the reply: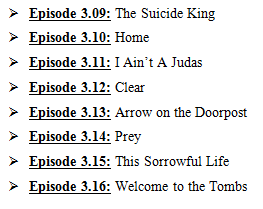 So, these pages have now been confirmed with correct titles, so there is no need to change them back to "Killer Within, Part II" or "Pale Horse" and so on.
Here are the episode links:
So, there is it. Confirmation of the names so there hopefully should be no more confusion or renaming.
And so people don't think I just created this picture on paint or something, here is a screenshot of the Tweet.