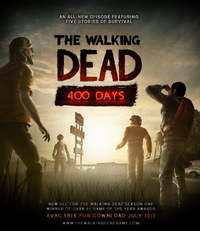 Wikia will be at Comic-Con again this year! We'll be participating in panels for both AMC's The Walking Dead and Telltale's The Walking Dead Video Game. If you have any questions about what we can expect from the TV series in Season 4, or from Telltale in Season 2, ask away!
Post your questions in the comments and we will ask the best ones!
For more Comic Con info, check out Wikia at Comic Con.
---
---
Ad blocker interference detected!
Wikia is a free-to-use site that makes money from advertising. We have a modified experience for viewers using ad blockers

Wikia is not accessible if you've made further modifications. Remove the custom ad blocker rule(s) and the page will load as expected.