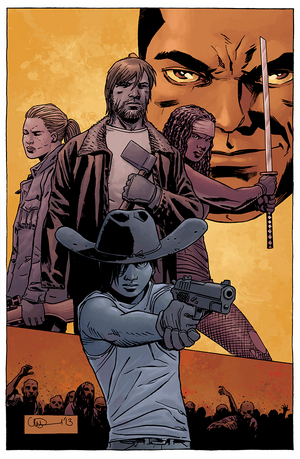 Huge news for comic fans!  The mysterious 
teasers
that have been released over the last few days by Image have finally been addressed. Today, at Image Expo, it was announced that Volume 20 will be titled "All Out War". According to
Robert Kirkman
, writer of
The Walking Dead
, "The story will show civilization rebuilding, and with civilization comes conflict."
The big news however, is that Volume 20 will contain 12 issues. These issues will be released over six months, starting in October. That's right. That means you will be receiving 2 issues of The Walking Dead every month, for six months.
To help out with the additional issues, Dave Stewart will be working on the color covers. Dave has worked on other titles such as Hellboy, Star Wars, and Captain America. Stefano Gaudiano will be helping out with inking. Stefano has worked on titles such as Daredevil, Gotham Central, X-O Manowar. Regular artist Charlie Adlard will continue with pencils and Cliff Rathburn will still be working on tones.
Who's excited for October?
Update: In addition to "All Out War", to celebrate the 10th anniversary of The Walking Dead, a new exclusive Issue #1 will be released in full color!
References
Ad blocker interference detected!
Wikia is a free-to-use site that makes money from advertising. We have a modified experience for viewers using ad blockers

Wikia is not accessible if you've made further modifications. Remove the custom ad blocker rule(s) and the page will load as expected.