Comments

4
Scott Gimple New 'Walking Dead' Showrunner
New Showrunner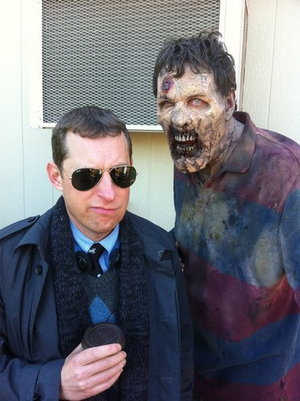 Hey everyone!  I apologize for being short on time and not being able to make a detailed blog, but I wanted to get the news to you as soon as possible.  
Scott Gimple
is the new showrunner for
The Walking Dead
, replacing the old showrunner,
Glen Mazzara
.
What do you think of this news? Do you have faith in Scott or are you nervous about Season 4? Given that the last two showrunners were in the position for about 1 and a half seasons, how long will Scott last? Either way, you can't screw The Walking Dead up that badly, can you?
References
Andreeva, Nellie. Scott Gimple Promoted To Showrunner Of 'The Walking Dead', Replaces Glen Mazzara Deadline Hollywood (January 14, 2013)
Don't forget to vote in the latest fight here!
Ad blocker interference detected!
Wikia is a free-to-use site that makes money from advertising. We have a modified experience for viewers using ad blockers

Wikia is not accessible if you've made further modifications. Remove the custom ad blocker rule(s) and the page will load as expected.