Favourite Characters
In Order
#10 Alice
Alice was a likeable character from the start. She was a young and pretty woman who had taken up a job at Woodbury as a nurse. She was likeable due to her helpfulness in delivering a baby, her ability to learn quickly and pay attention, and that she can be like a member of the Grimes Family.
#9 Ben Paul and Charles/Chuck
Throughout all the hate he got from his fellow survivors (Selling supplies to Bandits, Causing walkers to attack and the deaths of Katja and Duck, albeit indirectly), Ben was still a likeable character who would act like a second son for Kenny after Duck's death, and lead Kenny to Mercy shoot him (Determinant). Charles was a little freaky in the begining, living like a hillbilly, telling Clem she will die anyway, but became an interesting character who sacrificed himself for others, and usng his last bullet for himself
#8 Caesar Martinez
In the time we spent with Martinez we knew he could kick the Governor's ass. But he would follow him and do as he said (For some reason) He is a bad-ass in both the comics and the TV. In the TV series, he lets the Governor join his group even after Woodbury. In the Comics, I knew he was a betrayer, and his story (If true) was something that made the group trust him, until...
#7 Axel
Axel was a likable character from the start. I rather like his TV character better because he had more development and "You follow Me" got old after a while. I didn't expect his death and I give a hats off to the Writers for making him such an enjoyable character.
#6 Glenn Rhee and Maggie Greene
Glenn is very similar to his comic character (In my opinion). He and Maggie are meant to be together, and he will do anything to protect her, and she will do anything to protect him. Even within the apocalypse, Glenn makes sure she is first priority and they still are able to get married
#5 Aaron and Eric
The second tie I enjoy these two because, with all the shit in the schools and news about "homosexuality is bad," Robert Kirkman still puts it in his comic books (Derek and Andrew were the first, but they were antagonists, so...no). The two loved each other very much and were not afraid to be open about it. And everyone around them was fine with it
#4 The Governor
All I have to say is, he was as good as a villain as Darth Vader, Anton Chigurh, John Doe and The Joker. This was because he would do anything to get what he wanted (Killing his best friend, sleeping with two different women, and manipulate a camp of people to get revenge). He had just enough psycho in him to pull it off as well
#3 Lee Everet
I remember my father and I playing the game for abou two days near nonstop and got attached to multiple characters; including Kenny, Larry, Clementine, Carley and Lee. And umong those, Lee stood out due to his background and how, after revealing it (Determinant), he was still liked by the group anyway since they didn't care what happened then, they liked him now. I almost cried at his death because I sure as hell didn't expect it
#2 Merle Dixon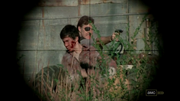 I like Merle's Character since we were introduced to him in the TV series. He was written to be a jack-ass but changed his heart and went out swining. Damn you Ben, you screwed it up. He made us believe that, no matter how bad you might be on the outside, if you look on the inside the heart is pure and true to family (Like the Grinch)
A few honourable mentions
Carley
T-Dog Douglas
Carl (Comic Series)
Carol Peletier (TV Series)
Daryl Dixon
Oscar
Dale Horvath
Jim and Morales
#1 Hershel Greene
I like Hershel because he is a father figure not only to his girls but to the group he is in. He is a religious man who believes that God did this for a reason. Also he is santa claus. he takes Allen's place in the TV series by losing his leg, but unlike Allen, he lives to tell the tale. He makes sure his daughter's and son-in-law are protected and that Rick is sane enough to lead the group
TV Series
Top 5 Best Moments Per Season
Season 1
CDC Explosion
Morgan killing suit walker
Funny Moments in Tell It To The Frogs
Vatos- all of it
Rick, Shane, Lam and Leon kick Criminal Ass
Season 2
Dale's Death
Beside the Dying Fire- all of it
Barn Walker Scene/Dave and Tony
Otis's Death
Well Walker's guts fall out
Season 3
Axel's Death
This Sorrowful Life
Hershel loses Leg
Sick Death's/Beth's song in seed
Governor murders people on the road
Season 4
Governor's/Hershel's death
Creepy Clara
Indifference
Caleb Submaranian's death
Bus Crash annihilaton
Best Death Scenes
Dale
Governor/Hershel
Caleb
Tomas/Big Tiny
Otis
My Fellings on the Episodes
Season 1= 75%   
Days Gone Bye  8/10          
Guts 7.5/10
Tell It to the Frogs 6/10
Vatos 9/10
Wildfire 6/10
TS-19 8.5/10
Season 2= 70%
What Lies Ahead 8/10
Bloodletting 6/10
Save the Last One 8/10
Cherokee Rose 5.5/10
Chupacabra 4.5/10
Secrest 5/10
Pretty Much Dead Already  9/10
Nebraska 7/10
Triggerfinger 8/10
18 Miles Out 7/10
Judge, Jury, Exocutioner 7/10
Better Angels 6/10
Beside the Dying Fire 10/10
Season 3= 75.3%
Seed 7/10
Sick 8/10
Walk With Me 8/10
Killer Within 7.5/10
Say the Word 5.5/10
Hounded 8/10
When the Dead Come Knocking 7/10
Made to Suffer 9/10
Suicide King 8/10
Home 9.5/10
I Ain't A Judas 4.5/10
Clear 9.5/10
Arrow on the Doorpost 5.5/10
Prey 5.5/10
This Sorrowful Life 10/10
Welcome to the Tombs 8/10
Season 4 76.25%
30 Days Without an Accident 6.5/10
Infected 7/10
Isolation 6/10
Indifference 8/10
Internement 8/10
Live Bait 7.5/10
Dead Weight 7.5/10
Too Far Gone 9/10
After 6/10
Inmates 8/10
Claimed 6.5/10
Still 7/10
Alone 7/10
The Grove 9/10
Us 10/10
A 9/10
Season 5
No Sanctuary 9.5/10
Strangers 8.5/10
Four Walls and a Roof 9/10
Slabtown 9/10
Self Help 9.5/10
Consumed 8.5/10
Crossed 8/10
Coda 9/10
Top 15 Characters in Order
Hershel Greene
Merle Dixon
Glenn Rhee/Maggie Greene
Axel
Carol Peletier
Caesar Martinez
T-Dog Douglas
Daryl Dixon
Oscar
Dale Horvath
Bob Stookey
Jim and Morales
Tyreese
Lizzie and Mika
Martin
Comic Series
Volume Percents
Days Gone Bye 75%
Miles Behind Us 65%
Safety Behind Bars 70%
Heart's Desire 60%
Best Defense 60%
This Sorrowful Life 80%
Calm Before 75%
Made to Suffer 90%
Here We Remain 70%
What We Become 80%
Fear The Hunters 90%
Life Among Them 80%
Too Far Gone 95%
No Way Out 95%
We Find Ourselves 80%
Larger World 85%
Something to Fear 90%
What Comes After 75%
March To War 85%
All Out War (Part 1) 95%
All Out War (Part 2) 85%
Video Games
Telltale Games
Social Game
Dead Reckoning
Assault Series (Never Played)
Survival Instinct (In My Opinion, it Sucked)
Telltale Games
Top 15 Characters in Order
Lee Everet
Ben Paul/Charles
Carley
Kenny
Omid/Christa
Doug
Andy St. John
The Stranger
Molly
Hershel Greene
Larry Caul
Mark
Danny St. John
Vince
Wyatt
Top 5 Worst
Carver
Dee
Brenda
Katjaa
Brie
About Me
Favourite Songs
Over Now by Alice in Chains
Before the Storm by Queensryche
Breaking the Girl by Red Hot Chili Peppers
All Apologies and Heart Shaped Box by Nirvana
Black Dog by Led Zeppelin
Favourite Movies
Nightmare Before Christmas
The Great Escape
Dawn of the Dead (2004)
The Help
Yeti (Curse of the Snow Demon)
Favourite TV Shows
Family Guy
The Walking Dead
Sleepy Hollow
The Big Bang Theory
The Penguins of Madagascar
My Achievments