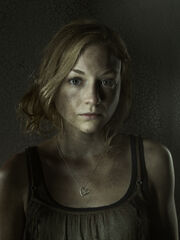 Hi my name, as a guys know, is Hunter and I love The Walking Dead and I haven't missed one episode yet and don't plan to, I also own the first and second season on DVD and my favorite character was Amy, so sad she died though (but still love her). I have then changed to Sophia being my favorite character but since she died my fav is now Beth Greene, love her so much, I really believe Beth is becoming a stronger and braver character and I hope she will live for a long time. I consider myself to be Beth's number #1 fan because I have loved her from the very begining and for a long time I was the only one editing her page until she got a bigger role in Season 3. To further prove this, if you type in "Beth Greene's Number 1 Fan" in the search bar, my user page is the first thing that shows up!! I love and play the Video Game and Social Game on Facebook. I love to edit this wiki and honestly, I have only read ten volumes of the Comic Series (so far) so I will mainly be editing TV Series related articals. I also am a big fan of the Left 4 Dead Series and am editing that wiki to, as well as many others. Hunter Biondolino (talk) 01:34, January 2, 2013 (UTC)
Emily Kinney's Tips for looking Hot in a Zombie Apocalypse!
Edit
My friends in The Walking Dead Wiki
Edit
User: Cheria <3
User: Hellogiggles <3
We are totally the best Beth Fans! <3
My favorite pages
Edit
Favorite Characters is the Comic Series (No Order)
Edit
Favorite Characters in the TV Series (No Order)
Edit
Favorite Characters in the Video Game (No Order)
Edit
Emily Kinney Randomness!!
Edit
My Favorite Pictures (Walking Dead TV Series)
Edit