"I have to clear."
This user is on hiatus. Please leave a message on this user's talk page upon his/her absence.
"Me? I'm the custodian..." This user is a janitor.
They are officially recognized by their deeds of keeping the Wiki clean from spam and grammatical errors and are in charge of the Wiki's cleanliness.
This user is a Chat Moderator who regulates and monitors what is said on the "Live! Chat" feature on this wiki.
Any problems, queries or complaints should be posted on their talk page.
| | |
| --- | --- |
| | "Read your comic books awhile..." This user is a comic reader. They are officially recognized by primarily focusing on The Walking Dead Comic Series and keeping information related to it current and up to date. |
This user is a fan of GhostWolf, GRANDMASTA, and Gravelord: The GGG.
GGG AINT NUTHIN 2 FUCK WIT
dis usr is a power ranger
"ets morphin time"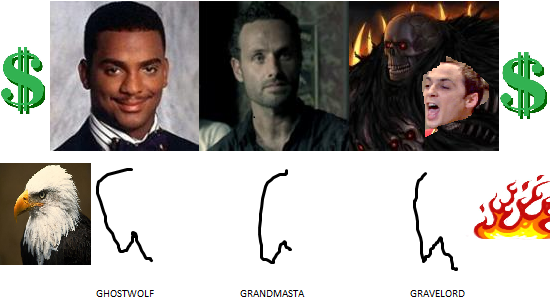 HI
Hello person, I am GRANDMASTA. I am a human. I am of certain age and was born mid 1990's. 
I am a big fan of The Walking Dead. I love the comics, the TV Show, the Game, EVERYTHING. I am very knowledgeable, if you have questions about TWD or the wiki in general don't be afraid to leave a comment on my talk page, I wont bite.
I've been on the wiki for a while, and obtained 'Janitor' position in May 2013. From then on I rarely edited, but now I'm back full time. Always lurking. Always.
Also, apparently, I won some 'Breakout User' award as voted for by the community. I have no idea what that means. Also, I'm the 'Best Janitor' on the wiki (lolbullshit), the 'Funniest User' (isthatsupposedtobeacomplimentordononeofyoutakemeseriously), and the most 'Awesome User' (icanlivewiththat,imaprettycoolguy).
Namaste.
GRANDMASTA'S UNPOPULAR OPINION OF THE MONTH
Edit
"I think that Jesus being gay has essentially ruined his character."
User:GRANDMASTA - "March, 2014"
For previous Unpopular Opinions of the Month, click here.
Avatar Gallery
Edit
Nice Things Users Have Said To Me
Edit
"YOU SUCK! YOUR FAVORITE TV SHOW IS POO YOUR PANTS LIVE!"
—User:BethanRobins trying to insult me after reverting a bad edit she made.
"Seriously it's people like you that are ruining this wiki for everyone else!"
—Anon expressing his love for me!
"To say you hate the walking dead if you like Beth is a completely ignorant statement."
—Walter White 'putting me in my place'
"Really? They just CONFIRMED TWD s2 releases today for PC and Ps3. And no one changes it? This wiki is full of a bunch of dumb asses."
—User:WalkingDeadFan1911 insulting me and GhostWolf716 after reverting his terrible edits in the "All That Remains" trivia section. THEY CONFIRMED THE RELEASE DATES A WEEK AGO WHEN HE WROTE THIS
"If you are truly perfect, you wouldn't flaunt about how perfect you are, sweetie."
—Kaley trying to boss me. Who does she think she is, talking to the most must see user on the wiki like that?!?
Top 5 TV Series Characters
Edit
Top 5 Comic Series Characters
Edit
Honorable Mention
Edit
Top 5 Video Game Characters
Edit
(Based on my playthrough)
In June 1997, Gravelord stole my bicycle, and numerous persons pissed on my jeans.

As of December 2013, I am yet to receive that bicycle back.

I am perfection.
I fucking hate The Walking Dead.
I was born in Antarctica to seals.

As a baby seal I was taken captive by Eskimos. 3 years later I awoke somewhere in Australia as a person.

This story may or may not be true.

I used to have a dildo collection, but Lizzie Samuels stole it.
This user is a fan of Rosita's ass.
Son of a dick, that's a great ass!
When I go on hiatus, chat dies.