Themes: Nicknames
Talk

0
3,295pages on
this wiki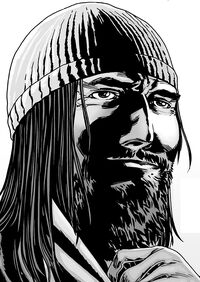 A nickname is when a character is referred to by a different name other than their birth name. Nicknames can be chosen under the circumstances that is is related to the persons appearance or personality.
Occurrences
Edit
Comic Series
Edit
TV Series
Edit
Morales is only known by his last name, due to this, his first name is currently unknown. (TV Series)
Theodore Douglas is known as, 'T-Dog', 'T' and also 'Dog' by Shane. (TV Series)
Dale Horvath is referred to as 'Old Man' by Daryl. (Tell It to the Frogs)
It is unknown when, but when Merle Dixon and Andrea were part of the Atlanta group, Merle called Andrea a "Whore" and "Rug muncher". (TV Series)
Merle Dixon refers to Morales and T-Dog with various racial slurs such as, 'Taco Vendor' and 'Nigger'. (Guts)
Merle also refers to Andrea as "Sugar-tits". (Guts)
Daryl Dixon calls Glenn, 'Asian' as well as, 'Chinaman' and 'Short Round'. (Vatos, Beside the Dying Fire)
The nicknames 'Mijo' and 'Vato' are used several times by Miranda Morales, Miguel, Felipe and Guillermo (Vatos)
Lori Grimes calls Otis "The idiot that shot my son". (Bloodletting)
In Daryl's hallucination, Merle calls him 'Darlina'. Although this did not actually happen, this might be a nickname he teased Daryl with when they were both younger. (Chupacabra)
Daryl calls Lori "Olive Oyl", a reference to the character from Popeye. (Nebraska)
In a deleted scene, Dale refers to Shane as a "little devil on Rick's shoulder". (Judge, Jury, Executioner)
T-Dog calls Randall, "Randy".(Better Angels)
T-Dog jokingly refers to Rick as "The Governor". (Better Angels)
Hershel Greene calls his daughter, "Bethy". (Seed)
Rick is called "Atlanta", "Boss", and "Cowboy" by Tomas. (Sick)
Tomas calls Rick's group "Robin Hood Cats". (Sick)
Andrea is called, "Blondie", by Merle. (Walk With Me, Killer Within)
Philip is known as "The Governor" by the towns people. (Walk With Me)
Axel calls several survivors 'bro'. (Killer Within)
Merle calls Caesar "Brownie". (Say the Word)
Andrea calls Michonne "Mich". (Say the Word)
Merle calls Milton "Millty". (Say the Word)
Merle calls Andrea "Sweatheart". (Say the Word)
Daryl jokingly calls Judith Grimes "Little Ass Kicker". (Say the Word)
Merle refers to Maggie as "Little Bo Peep". (When the Dead Come Knocking)
Woodbury residents refers to Richard Foster as "Rich". (The Suicide King)
Daryl refers to Michonne as "The Last Samurai". (The Suicide King)
Merle refers Michonne as "Nubian Queen". (The Suicide King)
Daryl calls Milton "Butler". (Arrow on the Doorpost)
Milton calls Daryl a "Henchman". (Arrow on the Doorpost)
Rick calls The Governor, "The Town Drunk". (Arrow on the Doorpost)
Bob Stookey calls Tyreese, "Ty".
Carol calls Daryl "pookie".
Dr. Subramanian is mostly known as, and called, Dr. S.
Jeanette is called "Jean" for short by Carol as she tries to tell her to go inside Cell Block A.
Mitch calls Philip, "One Eye Bri" and "One Eye" as they search for a cabin.
Webisodes
Edit
Video Game
Edit
Survival Instinct
Edit
Dead Reckoning
Edit
Social Game
Edit
Ed tells the main character upon meeting him that his friends call him "Trucker". (Social Game)
The player can give themselves a nickname, if they want one. (Social Game)
Jesse is known mostly by the survivors as, "Uncle Jesse".
Joe is simply known as "Joe The Mechanic".
Marla is often referred to as "Old Girl", "Ol' Girl", and "Sweet Ol' Marla". (Social Game)
Ed refers to Otis as "Big" Otis.
Coming
Novel Series
Edit