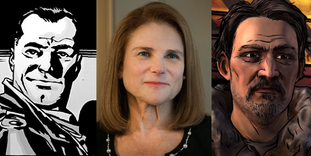 Leadership or Power is a recurring theme in The Walking Dead. It can appear as a fight between people to obtain power, or one's being at the head of a group's decisions.
Occurrences
Shane Walsh leads the Atlanta Survivor Camp until Rick Grimes arrives. (Season 1)
Morales appears to lead the scavenging trip to Atlanta, until Rick arrives. (Days Gone Bye)
Merle Dixon tries to take over leadership of the scavenging group from unassumingly Morales. (Guts)
Glenn Rhee demonstrates leadership when going into the sewers by assigning all of the members of the scavenging group jobs until he returns (Rick and Andrea guards, Morales his "wingman", and Jacqui alerting them of any dangers). (Guts)
Hershel Greene leads a group of survivors on his farm. (Season 2)
Shane struggles over leadership with Rick and Hershel several times. (Season 2)
Rick rules over the survivors with an iron fist. (Season 3)
Philip Blake leads Woodbury. (Season 3)
Corporal Brady leads the small group of National Guardsmen. (Walk With Me)
Tyreese Williams leads his group. (Made To Suffer)
Glenn mentions that with Daryl Dixon gone and Rick having hallucinations, he is next in charge. (Home)
The prison community is led by a council of people encompassing Hershel, Glenn, Daryl, Carol Peletier and Sasha Williams. (Season 4)
Caesar Martinez abandons Philip and goes on to lead a different group of survivors. (Season 4)
Pete Dolgen assumes leadership of Martinez's group after his death at the hands of Philip. (Dead Weight)
Philip takes charge of the group and takes on Pete's brother Mitch as his second-in-command after killing Pete. (Dead Weight)
Upon reuniting with his group, Rick regains his leadership, this time with a more calm and measured command style.
Gareth is the leader of a group of fellow Terminus members who survived the shootout during the rescue mission led by Carol. (Strangers)
Dawn Lerner is the leader of a group of survivors who reside at Grady Memorial Hospital in Atlanta, Georgia. (Season 5)
Deanna Monroe is the leader of the Alexandria Safe-Zone. (Season 5)
Owen is the leader of The Wolves. (Season 6)
After Deanna Monroe's death, Rick Grimes becomes the leader of the Alexandria Safe-Zone. (Season 6)
Gregory is the leader of the Hilltop Colony. (Season 6)
Ezekiel is the leader of the Kingdom. (Season 7)
Jadis is the leader of the Scavengers. (Season 7)
During the war, Maggie Rhee takes on the role as the leader of the Hilltop Colony soldiers. (Season 7)
Ad blocker interference detected!
Wikia is a free-to-use site that makes money from advertising. We have a modified experience for viewers using ad blockers

Wikia is not accessible if you've made further modifications. Remove the custom ad blocker rule(s) and the page will load as expected.