Themes: Isolation
Talk

0
3,309pages on
this wiki
This article is about the theme. You may be looking for the TV Series episode.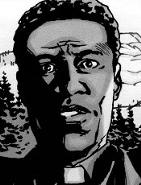 Isolation is when someone isolates him or herself, intentionally or otherwise, from other people.
Occurrences
Edit
Comic Series
Edit
TV Series
Edit
Rick Grimes was isolated for about two months in a hospital while in a coma. Only after he awoke and did some exploring did he encounter the remaining Jones family members. (Days Gone Bye)
Morgan Jones and his son Duane were isolated themselves until coming across Rick. After his departure, they were once again alone against the world. (Days Gone Bye)
Merle Dixon is left behind after Rick cuffs him to a pipe and T-Dog drops the handcuff keys. (Guts)
Dr. Edwin Jenner was isolated in the CDC from the rest of the world with only an artificial intelligence program to talk to. (Wildfire)
Sophia is separated from the group after two zombies come after her and she ignores Rick's advice and flees from her hiding spot. (What Lies Ahead)
Shane leaves Otis to be eaten by walkers.
Daryl Dixon temporarily separates himself from the group in light of Sophia's death. (Season 2)
In light of the barn massacre and his realization that his family and friends were dead rather than sick, Hershel Greene abandons his farm and the other survivors to go drinking in town. (Nebraska)
Carl Grimes goes into the woods alone and encounters a zombie which he first throws stones at and tries to kill until it gets free and he runs for his life. (Judge, Jury, Executioner)
Dale Horvath goes for a walk in the woods by himself, disgusted by the way his fellow survivors are dealing with Randall and ends up getting ripped open by the walker Carl encountered before. (Judge, Jury, Executioner)
Andrea is separated from Rick's group after the herd of zombies attack the farm. (Beside the Dying Fire)
Five convicts were trapped in a prison for 10 months, being isolated from the outside world. (TV Series)
The Hermit was isolated from other people; living in the woods. (When the Dead Come Knocking)
The Prison Survivors that are present during the walker attack in Cell Block D isolated themselves from the remaining Survivors in Cell Block C to contain the unknown sickness that spreads in the Prison. (Infected)
Rick isolates Carol from the Prison group following a supply run, believing everyone (including himself) will distrust her when the truth comes out about Karen and David, and that Tyreese will try to kill her. (Indifference)
Caesar and Shumpert abandon Philip after the Woodbury Massacre, leaving him by himself with little supplies.
The Chalmers family stayed put in their apartment room after the outbreak.
The Prison Bus leaves, with Bob, Maggie, and Sasha having to figure out how to leave.
Webisodes
Edit
After being captured by B.J., Kelly was locked up for an unknown amount of time in a storage, tied to a bed. (Cold Storage)
Video Game
Edit
Dead Reckoning
Edit
Social Game
Edit
Novel Series
Edit