Ad blocker interference detected!
Wikia is a free-to-use site that makes money from advertising. We have a modified experience for viewers using ad blockers

Wikia is not accessible if you've made further modifications. Remove the custom ad blocker rule(s) and the page will load as expected.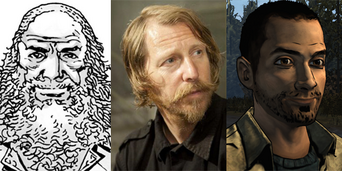 Humor is a recurring theme in The Walking Dead. It is a theme that provides comic relief in the usually bleak world of The Walking Dead.
Occurrences
Negan makes a joke about Lucille being a vampire bat as he beats Glenn to death. (Issue 100)
Negan intimidates a Savior after he brings him his bat, "Lucille". He asks if the Savior treated her like a lady and then asks if he ate "her pussy like a lady". As the Savior is stuttering nervously, he exclaims, "I'm just fucking with you! A baseball bat doesn't have a pussy!" (Issue 105)
Negan makes fun of a fellow Savior as they play a game of Ping-Pong. (Issue 108)
Negan provokes Dwight by telling him that he would "ping pong his dick" over Sherry's breasts. (Issue 108)
Negan comments to Spencer he has no guts, then after gruesomely gutting him remarks that his guts were in fact inside him along. (Issue 111)
Negan says to Dwight "I hope you have your shitting pants on" as zombies swarm the Sanctuary. (Issue 116)

After receiving a letter from Anna, Rick asks Carl who is his girlfriend. Carl tells him to shut up afterwards. (Issue 129)
After working with Earl, Sophia states that Carl "smells like shit". (Issue 133)
Negan asks his fellow Whisperers what time the lunch is, and when he does not get an answer, he states, "fuck a bunch of you guys". (Issue 156)
Harris jokingly states that they might find some Playboy magazines and later finds a Playboy magazine while searching for supplies. (Hide and Seek)
B.J. jokingly states to Chase that if he wants to watch porn, then just ask, because he has all different categories of pornographic material. (Keys to the Kingdom)
While going to sleep with Clementine in Hershel's barn, Clementine begins to note that the barn smells horrible. Lee has the option to say "shit," leading to Clementine calling him out on his swear. (A New Day)
When having a look outside the pharmacy with Doug, Lee has the option to point a universal remote at it and say; "Open sesame". (A New Day)
When Irene is telling Lee, Glenn, and Carley what happened to her and her boyfriend, Glenn is disappointed to find out she was in a relationship.
Mark tells Lee that he heard Doug lying in bed just naming types of pie. (Starved For Help)
Kenny suggests that Lee knows how to pick a lock due to him being "urban", referring to the fact that he is African-American. (Starved For Help)
Lee makes fun of Carley for not knowing how batteries work back at the pharmacy. (Starved For Help)
Clementine curses, saying that the barn smells like "shit". (Starved For Help)
Clementine reveals that she put a bug on Duck's pillow. (Long Road Ahead)
Later, if Carley is saved, she jokes about the batteries being in backwards in the flashlight. (Long Road Ahead)
If Lee high-fives Duck, the in-game message will state "Duck thinks you are incredibly awesome". (Long Road Ahead)
Lee calls Clementine on allowing Omid to swear repeatedly, whereas she never allows him to swear. (Long Road Ahead)
Kenny makes a witty remark about what he'll do to the one ringing the bell towers in Savannah, saying, "I'll ring HIS motherfucking bell!". (Around Every Corner)
Lee says that when they are finally safe, he will teach Clementine but not give her homework. (Around Every Corner)
When Molly returns to Lee after getting a photo of her sister in Crawford, she initially pretends that she lost the battery, revealing moments later that she was "just kidding". (Around Every Corner)
Omid acts as comedy relief for the group, trying to lessen the tension when things get tough. (Video Game)
On the Hospital Rooftop, Kenny will remark that whoever was writing the message on the wall "went ass over tea-kettle." (No Time Left)
Lee has the option to make a wisecrack about having his arm amputated, as well as about Omid's height. (No Time Left)
When Lee/Kenny throws the bust at a wall, Omid exclaims "You ruined that dude's face." (No Time Left)
Eddie makes numerous wisecracks about Wyatt's weight. (Wyatt's Story)
Wyatt and Eddie exchange in some friendly banter while driving down the foggy road. (Wyatt's Story)
Russell has the option to tell Nate that his name is "Asswipe". (Russell's Story)
Bonnie and Leland play a humorous game of "Would you rather". (Bonnie's Story)
Omid suggests they name his and Christa's baby "Omid" or "Christa". (All That Remains)
When Pete says that he always beats Luke in poker, Luke begins to disagree with him but then changes the subject. (All That Remains)
Reggie will ask Clementine's group about the last time they had electricity, and when Sarah mentions the wind turbine at the lodge, Reggie will interrupt saying, "It's not a competition". (In Harm's Way)
Reggie will pat Clementine's head with his arm, before backing away slowly saying, "That was awkward. I won't do that again". (In Harm's Way)
When Kenny awakens from his unconsciousness brought on by being beaten by Carver, Nick remarks with a smile "Not bad, old man", to which Kenny humorously responds "Thanks, asshole". (In Harm's Way)
Kenny asks, "Am I still gonna be pretty when this heals?" about losing function of his eye. (Amid The Ruins)
Jane jokes about her sister's bad haircut, then saying that she herself gave her that bad haircut. (Amid The Ruins)
Clementine can joke after failing to squeeze between a gate at the museum, claiming she's "not as small as she used to be". (Amid The Ruins)
At the Parker's Run Memorial Museum, after finding a raccoon, Mike will state "I'd eat the shit out of that raccoon", and both Clementine and Bonnie stare at him blankly, and he replies "I mean, just that I'd be really happy to eat that raccoon". (Amid The Ruins)
At the power station, when Clementine is given the baby, Clementine looks to Mike and he replies, "Oh no, that's all you". (No Going Back)
Kasumi jokingly states that since the world's ending, the police won't pull you over for speeding. (Social Game)
Greg tells the main character he misses pizza and "internet pictures". (Social Game)
Davey jokes with the hero player, stating that he is "So glad to find other people. My girlfriend became one of those things and I had to break up with her." (Social Game)
Nathan tells the hero player that he thinks he "dirtied his drawers", after the bombing of Atlanta. (Social Game)
Greg exclaims that he likes Nathan and Max but thinks that Max's taste in music sucks. (Social Game)
Max tells the hero player that while he and Nathan were on guard duty and thought that walkers were attacking. They then reveal that they ended up killing some delicious raccoons. (Social Game)
Upon first meeting Marla, Ed tells the hero that she is "as mean as a walker".
Nathan says several funny things while doped up on medication, saying that he feels fine but he can't feel his lips so well and that he now has fish lips. (Social Game)
The Hero Player (or Max) will be surprised by a large number of walkers entering the area and say, "Sweet Unicorn Jesus with a jetpack!" (Social Game)
Max claims that someone was "cutting the cheese" during the ambulance ride, and he believed it was Kara. The latter denied it and claimed it was Nathan. Marla eventually reveals it was her all along. (Social Game)
The Hero Player pokes fun at Ed by claiming he "liked him in that way" after being told that they're "ambulance buddies." (Social Game)
Bill claims that he will be 100% vegetarian after the experience of having subsisted on medical waste. (Social Game)
Marla tells the hero player to put back a bottle of pills; explaining that it is Viagra. (Social Game)