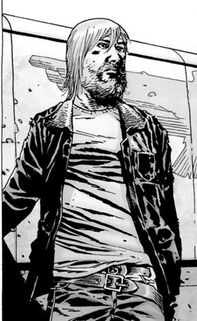 Hope is a recurring theme in The Walking Dead. It is a common theme that shows that the new, post apocalypse world doesn't have to be bleak and depressing.
Occurrences
Lee can choose to tell Mark that Kenny believes that there is still hope, something that Lilly disagrees with. (Starved For Help)
Lee tells Clementine that things will get back to normal one day, giving her hope. (Starved For Help)
Lee can confess to Clementine his hopes of one day having children of his own. (Starved For Help)
Clementine tells Lee that when they get to Savannah, she hopes her parents are okay. (Long Road Ahead)
Lee, Clementine and Kenny find a boat in the shed at the mansion, making the group more hopeful of escaping. (Around Every Corner)
Lee hopes that cutting his arm off will stop him from becoming a walker. (Determinant) (No Time Left)
Kenny constantly hopes that Wellington will be a safe haven for him and the group. (Season 2)
After the main character goes out and finds much needed supplies for the camp, the survivors express their gratitude and expand the camp. (Social Game)
Kasumi hoped that she will find her missing husband. (Social Game)
Ad blocker interference detected!
Wikia is a free-to-use site that makes money from advertising. We have a modified experience for viewers using ad blockers

Wikia is not accessible if you've made further modifications. Remove the custom ad blocker rule(s) and the page will load as expected.