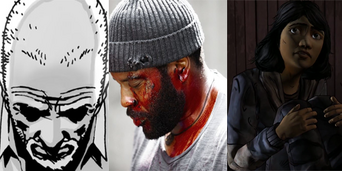 Depression is a recurring theme in The Walking Dead. It is an emotion felt by characters in a period of time accompanied by feelings of hopelessness and inadequacy. It is much more common in this apocalyptic world where death is everywhere.
Occurrences
The Clark family were depressed after the death of their father/husband before the outbreak.
Alicia becomes deeply saddened after her boyfriend Matt is bitten and is forced to leave him at the demand of Madison and Travis. She shows signs of sadness again after seeing her zombified neighbor Susan and realizing that Matt may be just like her.(So Close, Yet So Far)/(The Dog)
Patrick becomes depressed when he comes home from the airport to find his wife as a walker and moments later, she is shot in the head by soldiers before she bit him.(The Dog)
Doug is upset and scared of being screened by medical personnel.Not Fade Away
Summer, after the loss of her parents, becomes depressed and runs away, later being infected and reanimating. (Social Game) 
Ed is saddened by seeing his cousin become a walker and having to kill her, he later tells the player that he sees no hope for the group in the future. (Social Game)
After the death of Nathan, Marla Wilkinson is deeply shaken by the event and expresses strange behavior. (Social Game)
Ad blocker interference detected!
Wikia is a free-to-use site that makes money from advertising. We have a modified experience for viewers using ad blockers

Wikia is not accessible if you've made further modifications. Remove the custom ad blocker rule(s) and the page will load as expected.