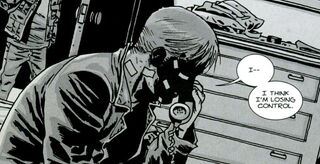 Denial is a recurring theme in The Walking Dead. It is the the action of declaring something to be untrue. It is a common theme in The Walking Dead, seen after the loss of a family member or close friend, or when a character chooses not to believe a horrific event has occurred.
Occurrences
Summer denies that her parents are dead and later runs away. (Social Game)
Ed and Greg reveal that they had a hard time believing that the zombie apocalypse was actually happening. (Social Game)
Max denies that Nathan is dead, but later comes to terms with his death. (Social Game)
Ad blocker interference detected!
Wikia is a free-to-use site that makes money from advertising. We have a modified experience for viewers using ad blockers

Wikia is not accessible if you've made further modifications. Remove the custom ad blocker rule(s) and the page will load as expected.