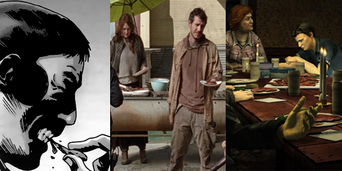 Cannibalism is a recurring theme in The Walking Dead. It is when a living person eats another person, usually done in an act to survive.
Occurrences
While Rick Grimes's group is trapped in Terminus, various body parts, including a dismembered torso, are seen in the room where Rick, Glenn Rhee, Bob Stookey, and Daryl Dixon are being held, possibly implying that all the residents are cannibals. (No Sanctuary)
Bob has his left leg amputated from the knee down and cannibalized by Gareth, Martin, Theresa, Albert, Greg and Mike. (Strangers)
Gareth informs Bob that the survivors who arrived at Terminus either joined their community or fed them. (Four Walls and a Roof)
Ad blocker interference detected!
Wikia is a free-to-use site that makes money from advertising. We have a modified experience for viewers using ad blockers

Wikia is not accessible if you've made further modifications. Remove the custom ad blocker rule(s) and the page will load as expected.