Themes: Betrayal
Talk

0
2,398pages on
this wiki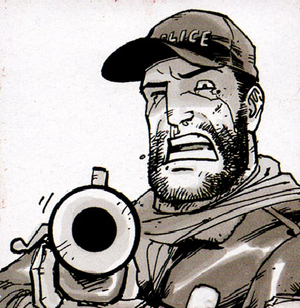 Betrayal occurs when a character or group turn on another person or party.
Occurrences
Edit
The Comic
Edit
The TV-Series
Edit
Edwin Jenner traps the group in the CDC and tells them that the building is set to blow, believing that it would be the least painful way to leave this new world. (TS-19)
Shane shoots Otis in the leg and steals all his supplies. He then leaves him to be eaten by zombies. (Save the Last One)
Dave and Tony try to kill Rick, Glenn, and Hershel after they refuse to bring them to the farm, appearing friendly at first. (Nebraska)
Dave and Tony's group leave Randall to die as more walkers converge on the area. (Triggerfinger)
Shane snaps Randall's neck after he asks him to bring him to his group. (Better Angels)
Shane attempts to kill Rick, believing that he can protect Lori and Carl better. (Better Angels)
Tomas quickly betrays Rick, Daryl, and T-Dog, attempting to kill Rick twice in hopes of taking over the prison. (Sick)
The Governor betrays Welles, having him killed after knowing the location of his men. (Walk With Me)
The Governor betrays Corporal Brad and his men, slaughtering them after waving a white flag. (Walk With Me

)

Oscar betrays his fellow inmate, Andrew, by killing him, rather than Rick. (Killer Within)
Michonne and Andrea split up. (Say the Word)
The Governor uses Merle as a scapegoat for the attack at Woodbury and proclaims him a tyrant. (Made to Suffer)
It is revealed that Daryl and Merle were originally going to steal all the supplies that the group had back in Atlanta and leave them.(Home)
In a fit of rage, The Governor massacres his army after they refused to attack the prison in fear of dying; among the casualties, Allen and Paul.
Webisodes
Edit
The Video Game
Edit
Dead Reckoning
Edit
Social Game
Edit
The player can betray their team mate by letting them get devoured to escape the horde. (Social Game)
Coming
The Novel Series
Edit