The Walking Dead Wiki Interviews/Jim R. Coleman
Talk

0
2,403pages on
this wiki
Kaffe4200 is responsible for this interview, conducted on January 4, 2013.
---
Jim R. Coleman is an actor born in Orlando, Florida in 1961. He is best known for his roles as Roger Parker on My Brother And Me, and President N'Gama on Sheena. He portrayed Lambert Kendal in The Walking Dead.
---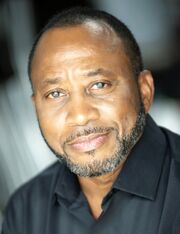 Jim R. Coleman

TWD Wiki: Do you still watch the show or read the comics?
Occasionally

TWD Wiki: What was it like working on The Walking Dead?
It was great sometimes when you're on a project you know its going to be good and I felt that about TWD I had no idea it would be great!!

TWD Wiki: What is one interesting story from your time on the set?
The thing that really got to me was when we broke for lunch sitting there eating with the walkers was really really creepy especially the little children walkers.

TWD Wiki: Do you think Lam will return at some point in the show?
That was never established. But I think Lam should show up at some point.

TWD Wiki: Do you have a theory about what happened to Lam after the outbreak?
I believe because of his military and police background I think he was able to go underground and form a group of fighters.

TWD Wiki: Did you have a bigger role, that just got scrapped, or did you just have that one scene in the pilot?
The one scene in the Pilot.

Jim R. Coleman with Andrew Lincoln, Jon Bernthal and Linds Edwards

TWD Wiki: Are you working on any other big movies or shows right now?
I just worked on two upcoming shows one is "Goldenboy" I'm Sgt Carson I.A. and on "Graceland" as Agent Caldwell.

TWD Wiki: On behalf of The Walking Dead Wikia, I want to say thank you. We appreciate you want to take your time with this.
Thanks for the support!!