Welcome to The Walking Dead Wiki


...a collaborative website for the continuing story of the survival horror, The Walking Dead.

Walking Dead Wiki poll
Who has been your favorite antagonist in the comics so far?

For previous polls, see the poll archive.
About The Walking Dead: An epidemic of apocalyptic proportions has swept the globe, causing the dead to rise and feed on the living. In a matter of months, society has crumbled: There is no government, no grocery stores, no mail delivery, no cable TV.
Rick Grimes finds himself one of the few survivors in this terrifying world. He was a small town cop who had only fired his weapon a couple times but never at anyone and had only ever seen one dead body. Separated from his family, he must sort through the death and horror to try and find his wife and son. In a world ruled by the dead, people are forced to finally begin living.
WARNING: The Walking Dead Wiki is updated to include all information about the comic series, novels, video games, and television show, including character statuses and current storyline plot-points. If you are not caught up to the current issue, Issue 101; the current episode, "Beside the Dying Fire"; the latest novel, Rise of the Governor, or the current Video Game episode, "Long Road Ahead"; you should be VERY careful regarding which pages you visit.
Browse
Create blog post
Latest Blog Posts
Greetings fellow wikians!

Second Blog in the series and allready late? Well yeah I wanted to wait ti…

Read more >

In issue 151, Eugene got a radio transmitter working and decided to see if anyone was out there. At…

Read more >

By this time, every year, we usually know more about the 2nd half of the current season. Am I missi…

Read more >
See more >
Featured Image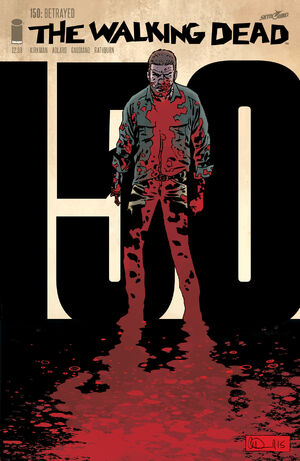 The new cover for Issue 150.
Latest Walking Dead Novel