Home
Talk

124
3,589pages on
this wiki
Welcome to The Walking Dead Wiki


...a collaborative website for the continuing story of the survival horror, The Walking Dead.

Walking Dead Wiki poll
What did you think of All Out War - Part One?

For previous polls, see the poll archive.
About The Walking Dead: An epidemic of apocalyptic proportions has swept the globe, causing the dead to rise and feed on the living. In a matter of months, society has crumbled; there is no government, no grocery stores, no mail delivery, no cable TV.
Rick Grimes finds himself one of the few survivors in this terrifying world. He was a small town cop who had only fired his weapon a couple times but never at anyone and had only ever seen one dead body. Separated from his family, he must sort through the death and horror to try and find his wife and son. In a world ruled by the dead, people are forced to finally begin living.
WARNING: The Walking Dead Wiki is updated to include all information about the comic series, novels, video games, and television show, including character statuses and current storyline plot-points. If you are not caught up to the current issue, Issue 105; the current episode, "Made to Suffer"; the latest novel, The Road to Woodbury, or the current Video Game episode, "No Time Left", you should be VERY careful regarding what pages you visit.
Browse

Create blog post
Latest Blog Posts
Discuss your favourite episode of the Walking Dead Video Game!

My opinions:




Character Developement: 8…


Read more >

Howdy! It has arrived, the long awaited preview for Issue 123 (Available on March 12th). Below is t…

Read more >

Hey remeber the most controversial blog I've ever made Top 5 Worst Walking Dead Episodes? Well...I …

Read more >
See more >
Featured Image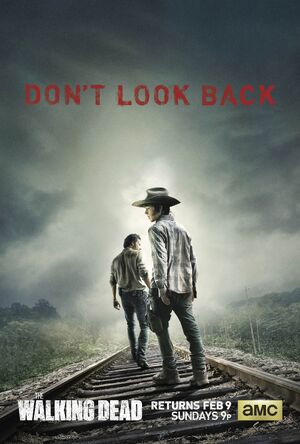 The official poster for the second half of The Walking Dead Season 4.