Ad blocker interference detected!
Wikia is a free-to-use site that makes money from advertising. We have a modified experience for viewers using ad blockers

Wikia is not accessible if you've made further modifications. Remove the custom ad blocker rule(s) and the page will load as expected.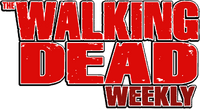 The Walking Dead Weekly, is a weekly series reprinting of the comic.
Background
In October 2010, alongside the premiere of the television series, Image Comics announced The Walking Dead Weekly. Starting on January 5, 2011, the first 52 issues of the series were reprinted, one issue per week, for a year.[1]
Weekly
| Issue | Cover | Release |
| --- | --- | --- |
| Issue 1 | | January 5, 2011 |
| Issue 2 | | January 12, 2011 |
| Issue 3 | | January 19, 2011 |
| Issue 4 | | January 26, 2011 |
| Issue 5 | | February 2, 2011 |
| Issue 6 | | February 9, 2011 |
| Issue 7 | | February 16, 2011 |
| Issue 8 | | February 23, 2011 |
| Issue 9 | | March 2, 2011 |
| Issue 10 | | March 9, 2011 |
| Issue 11 | | March 16, 2011 |
| Issue 12 | | March 23, 2011 |
| Issue 13 | | March 30, 2011 |
| Issue 14 | | April 6, 2011 |
| Issue 15 | | April 13, 2011 |
| Issue 16 | | April 20, 2011 |
| Issue 17 | | April 27, 2011 |
| Issue 18 | | May 4, 2011 |
| Issue 19 | | May 11, 2011 |
| Issue 20 | | May 18, 2011 |
| Issue 21 | | May 25, 2011 |
| Issue 22 | | June 1, 2011 |
| Issue 23 | | June 8, 2011 |
| Issue 24 | | June 15, 2011 |
| Issue 25 | | June 22, 2011 |
| Issue 26 | | June 29, 2011 |
| Issue 27 | | July 6, 2011 |
| Issue 28 | | July 13, 2011 |
| Issue 29 | | July 20, 2011 |
| Issue 30 | | July 27, 2011 |
| Issue 31 | | August 3, 2011 |
| Issue 32 | | August 10, 2011 |
| Issue 33 | | August 17, 2011 |
| Issue 34 | | August 24, 2011 |
| Issue 35 | | August 31, 2011 |
| Issue 36 | | September 7, 2011 |
| Issue 37 | | September 14, 2011 |
| Issue 38 | | September 21, 2011 |
| Issue 39 | | September 28, 2011 |
| Issue 40 | | October 5, 2011 |
| Issue 41 | | October 12, 2011 |
| Issue 42 | | October 19, 2011 |
| Issue 43 | | October 26, 2011 |
| Issue 44 | | November 2, 2011 |
| Issue 45 | | November 9, 2011 |
| Issue 46 | | November 16, 2011 |
| Issue 47 | | November 23, 2011 |
| Issue 48 | | November 30, 2011 |
| Issue 49 | | December 7, 2011 |
| Issue 50 | | December 14, 2011 |
| Issue 51 | | December 21, 2011 |
| Issue 52 | | December 28, 2011 |
References