Ad blocker interference detected!
Wikia is a free-to-use site that makes money from advertising. We have a modified experience for viewers using ad blockers

Wikia is not accessible if you've made further modifications. Remove the custom ad blocker rule(s) and the page will load as expected.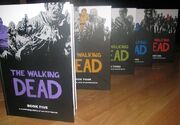 Hardcovers contain the contents of the comics, and in some cases bonus material. The books' trim size is larger than the paperbacks. Each hardcover contains two story arcs from the series. Signed versions of the books are available, each limited to 310 pieces.
Books
| Title | ISBN | Release Date | Collected Material |
| --- | --- | --- | --- |
| The Walking Dead: Book One | 1-58240-619-7 | July 19, 2006 | The Walking Dead #1–12 |
| The Walking Dead: Book Two | 1-58240-698-7 | March 7, 2007 | The Walking Dead #13–24 |
| The Walking Dead: Book Three | 1-58240-825-4 | December 19, 2007 | The Walking Dead #25–36 |
| The Walking Dead: Book Four | 1-60706-000-0 | October 29, 2008 | The Walking Dead #37–48 |
| The Walking Dead: Book Five | 1-60706-171-6 | May 5, 2010 | The Walking Dead #49–60 |
| The Walking Dead: Book Six | 1-60706-327-1 | October 26, 2010 | The Walking Dead #61–72 |
| The Walking Dead: Book Seven | 1-60706-439-1 | October 18, 2011 | The Walking Dead #73–84 |
| The Walking Dead: Book Eight | 1-60706-593-2 | October 9, 2012 | The Walking Dead #85–96 |
| The Walking Dead: Book Nine | 1-60706-798-6 | September 17, 2013 | The Walking Dead #97–108 |
| The Walking Dead: Book Ten | 1-63215-034-4 | September 16, 2014 | The Walking Dead #109-120 |
Other
Gallery