Talking Dead
Talk

2
2,400pages on
this wiki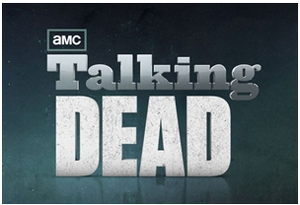 The Talking Dead is a live after-show about The Walking Dead in which the host (Chris Hardwick) discusses the show with special guests (there almost always one person who is connected to the show). Several after-show episodes are available online at [amctv.com AMCTV.com]. Media Post explained on March 16th, 2012 that Talking Dead "may be the first-ever talk show on which guests don't have to worry about promoting something or deflecting private questions".
Broadcast and Format
Edit
The half-hour series premiered on October 16, 2011, following the encore presentation of the second season premiere of The Walking Dead. The episode that followed The Walking Dead mid-season finale was an hour-long episode. The series features host Chris Hardwick discussing the latest episode with guests who are fans of the series and/or from the series. Segments on Talking Dead include an "In Memoriam", which highlights the deaths from the episode, an online poll, episode trivia, behind-the-scenes footage, and questions from fans via phone, Facebook, Twitter, or from the official Talking Dead website. After the on-air episode is complete airing, a bonus 15–20 minute segment continues online.
On December 2nd, 2012, it was announced that Talking Dead would be extended to an hour-long and move to 10pm, immediately following The Walking Dead. Due to the change in show length, the bonus online segments were shortened to around 5 minutes.
Guests and Bonus Content
Edit
In the behind-the-scenes trivia for "The Suicide King", it is said that Gregory Nicotero made his second appearance as a walker in the episode. It was actually his third.
External links
Edit