Talk:Rick Grimes (Comic Series)
2,398pages on
this wiki
I just broke up the Giant pararaph into smaller ones. I've also reworded a few lines. --Joshness 20:19, April 21, 2010 (UTC)
Possible death
Edit
Hey, could someone take a look at the last paragraph of Possible Death? It just sounds like gibberish but I can't find the issue to check on the reference, so I don't know if it's real or what.
Sonnen 14:46, January 25, 2012 (UTC)
RE: [1]
it is complete jibberish, some anons opinion. I am deleting it and warning the anon. Wikiasmikia 14:55, January 25, 2012 (UTC)
Who thinks rick will die? I my self cant imagine it.The series revolves around him.If he must die i want it to be in the last issue.
Main Photo
Edit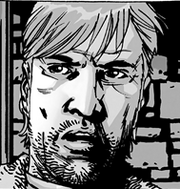 Which one most fits him.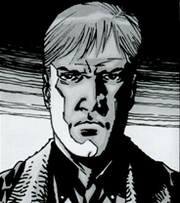 i like the second one better. Wikiasmikia 04:47, February 28, 2012 (UTC)
I noticed that the trivia section states that The Walking Dead was created before 28 Days Later, but in fact the Walking Dead was published a year or so after 28 Days Later
Rick's age
Edit
Where does it say Rick is 29? Shellturtleguy (talk) 16:45, December 7, 2012 (UTC)
Ah in the script book. I see. Shellturtleguy (talk) 16:53, December 7, 2012 (UTC)
Stop removing the "age" trivia please Pops Capo (talk) 16:55, December 7, 2012 (UTC)
Possible Death
Edit
ADD TO RICK'S PAGE WHEN HE DIES!!!!!!
Writer Robert Kirkman stated:
"If I keep doing horrible things to Rick Grimes, I'm going to eventually have to kill him or this book will become completely unrealistic. So yeah...he'll die, sooner or later—and I can pretty much promise that he will die before the end of the series. Unless I change my mind."
In answer to the question:
"In the first "Walking Dead" TP intro, you hinted that you're going to chronicle Rick Grimes adventures for the whole of his life. How can you possibly do that?"
Robert Kirkman responded:
"...Rick could die at any time--so that would chronicle his adventures for the whole of his life right there. I seriously doubt Rick is going to live to be 80, and at the pace this comic usually runs at that would take about 300 years to reach. We're at issue 37 right now and not even nine months have passed. Rick could only have two years to live and that could take another 100 issues to show."
"Also, I don't think I ever said the book would end if Rick died. It could easily continue after his death."[1]
Cite error: <ref> tags exist, but no <references/> tag was found