Talk:Michonne (TV Series)
3,295pages on
this wiki
What is with those two walkers with her?Armin Flajka (talk) 13:42, October 17, 2012 (UTC)Armin
They are camouflage, an they carry her supplies. And in the comics they were her Boyfriend and her boyfriend's best friendCrosider (talk) 14:12, October 17, 2012 (UTC)
Did Michonne have any lines in Hounded? I don't think she did. 213.249.173.47 18:50, November 26, 2012 (UTC)
Why Won't She Talk?
Edit
There have been so many moments where Michonne could've said something to her advantage, but she doesn't. For example, when she is found at the prison, she should've been able to recognize them as Andrea's group and said that she knew Andrea, and that Merle was who they were after. When she tries to kill the Governor and Andrea stops her, she could've said something about how the Governor had captured Glenn and that Rick was there to save them, etc. Bioniclepluslotr 00:41, December 5, 2012 (UTC)
Miscellaneous
Edit
Just been wondering this for a while- shouldn't Michonne be categorized under something more than "Miscellaneous" at this point? She's a pretty significant character, it's weird seeing her next to the insignificant Paula character.
Perhaps a reform of the TV Series Characters template. Have a major section for each season, then do the normal groups like Atlanta camp, nursing home, King County etc for Season 1, then Hershel's farm, Rick's group, etc for Season 2, then Prison, Woodbury, Miscellaneous etc for Season 3.... Thoughts? --Mistertrouble189 (talk) 12:46, December 11, 2012 (UTC)
The Walking Dead Character Page adds characters to when they see them. Michonne should be before the Prisoners survivors and behind Dave and Tony's group.
She's not part of an official group and please put your signature, you've been told this already. Shellturtleguy (talk) 18:14, December 30, 2012 (UTC)
"pancho" or "cloak"
Edit
exactly what is that thing she wears thats like this :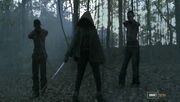 is it a pancho? it sure dosent look like one and that's what it is called on the mcfarlane action figure , we know daryl's is a pancho.
and why does she wear it ?Mario5223 (talk) 02:07, May 13, 2013 (UTC)
Possible death?
Edit
I watched the sneak peak for season 4 and it showed her being attacked by zombies--96.227.140.206 11:09, August 27, 2013 (UTC)
Relationships
Edit
Shouldn't there be a Daryl, Tyreese and a Bob relationship sections in the list Michonne's relationships? She's already interrected with them a good deal now. --RA (talk) 21:28, November 7, 2013 (UTC)
Why did Michonne hate The Governor so much?
Edit
I get why she hates him in the comics, since he raped her, but she pretty much has no reason to hate him in the series. He gave her food, water and fresh clothes, and only resorted to violence when he attacked her, I get she saw something was wrong about him, and she was right, but that didn't give her reason to kill his daughter and stab his eye.
Polisbil (talk) 16:31, November 9, 2013 (UTC)
First off she's mad because of the fact that he killed her best friend. His daughter was already dead (well undead) so she had every right to kill his daughter. She stabbed his eye because she couldn't get away and they were fighting. She also was mad at him for reeling Andrea in and having to go away on her own, so basically stealing the only survivor she trusted. And to top it all off he ends up killing Andrea. Plus he has killed members and attacked the group she is in now several times. I believe Michonne isn't so much THAT angry at him for what he has done to her and Andrea, but I believe she wants to kill him because of all the negativity he has brung to the people around her and because of the way he has effected the people around her.
({{SUBST:Cheese45/Sig}} 04:44, November 10, 2013 (UTC))