Issue 74
Talk

0
4,302pages on
this wiki
Issue 74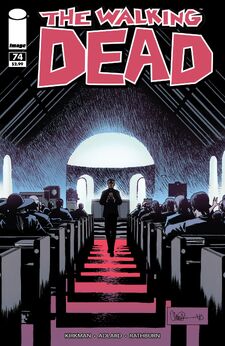 Release Date
July 8, 2010
Issue 74 is the seventy-fourth issue of Image Comics' The Walking Dead and the second part of Volume 13: Too Far Gone. It was originally published on July 8, 2010.
Plot Synopsis
The issue starts with Abraham arguing with Tobin about the fact that he left Holly for dead. Tobin tells Abraham that they have a "system" and asks Holly if she understands. Holly responds by kicking Tobin in the privates. Holly thanks Abraham, but, Abraham responds that she doesn't have to thank him because what he did is normal for him and his group.
Rick reveals the guns Glenn and he took from the armory. Andrea is mad at Rick because she doesn't want to carry the guns around. It's forbidden and she thought that this place meant something to Rick, something important. Andrea worries that Rick might mess up their living situation at the safe-zone. Rick tells her he feels bad about Carl. He doesn't seem to enjoy himself in the safe-zone. He says that Carl has been through too much.
Tobin and Douglas have a conversation about Tobin stepping down as leader of the construction crew and giving Abraham the job. Tobin tells him that the wall is almost finished and Douglas confronts him with the fact that the group is now taking orders from Abraham instead of him. Tobin is sad because many people died due to his cowardliness. Douglas comforts him.
Rick's group is able to move into new houses, to many of their delight. Carl says that he doesn't want Andrea to move out.
People head to the church where Gabriel is holding a service. When the service is over, Gabriel continues to struggle with guilt and continues to cry, pray, and ask the Lord for guidance. Glenn and Heath head into Washington, D.C. to scavenge for more supplies, especially antibiotics to help Scott with his injuries. Their trek into the city is a little rough and they are disappointed to find that the alley Heath typically uses to scavenge for supplies is full of walkers.
Rick expresses his concerns about Peter to Michonne, and she encourages him to do something about it if he honestly thinks something is going on.
Gabriel tells Douglas that Rick's group are bad people and that they don't belong in the safe-zone.
Credits
Deaths
Trivia