Issue 56
Talk

0
2,398pages on
this wiki
Issue 56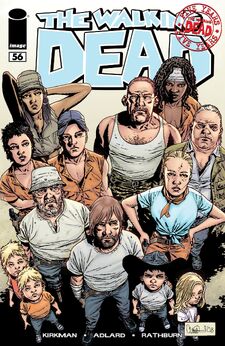 Release Date
December 17, 2008
Issue 56 is the fifty-sixth issue of The Walking Dead and part two of Volume 10: What We Become.
Plot Synopsis
Edit
Maggie Greene attempts to commit suicide by hanging herself. Glenn screams for help and Abraham cuts her down, only to find that she is not breathing. Glenn wants to do CPR but Abraham puts a gun to Maggie's head and says that she is dead, and they have to shoot her or she will come back as a zombie. The group argues and just as Abraham is about to pull the trigger, Rick Grimes puts a gun to his head and says that if he shoots Maggie, he will kill him. Just then, Maggie gasps for air, alive and okay.
The group goes back to camp, and Maggie does not want to talk to anyone, even her husband Glenn, about what she had tried to do. Rick is watching over the camp that night until Abraham comes to relieve him, and tells Rick that if he ever points a gun at him again, he will kill him. Rick replies that if Abraham ever does something that requires Rick to put the gun to his head, he won't hesitate to shoot.
Rick is attacked by a zombie but does not have a weapon and is unable to defend himself, but can see Abraham pointing a gun in his direction. Rick screams for Abraham to shoot, but Abraham just watches. Finally, he shoots the zombie and saves Rick's life. Abraham walks away from the group, and Rosita Espinosa finds him shaking and crying. Abraham tells her he was pointing the gun at Rick before he even saw the zombie. He pleads with Rosita to not let him kill again.
External links
Edit