Issue 53
Talk

0
3,294pages on
this wiki
Issue 53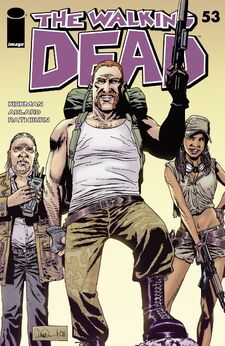 Release Date
October 10, 2008
Issue 53 is the fifty-third issue of Image Comics' The Walking Dead and part five of Volume 9: Here We Remain.
Plot Synopsis
Edit
Rick, Carl, and Michonne return to Hershel's Farm where everyone has been staying. Carl and Sophia are reunited and Carl learns that Sophia has repressed the memories of her mother and now thinks that Glenn and Maggie are her real parents. Michonne reveals to Rick that she's been "talking" to her dead boyfriend. Rick shows Michonne his phone, and explains that every time he picks up the phone's receiver, he talks to Lori. Rick and Michonne agree to keep each other's "craziness" a secret.
The next morning, the survivors are woken by a gunshot. Outside, Andrea points her rifle at three new arrivals: Abraham Ford, Rosita Espinosa, and Eugene Porter. Abraham explains that they are on a mission to Washington, D.C. Eugene mentions that he was in contact with Washington officials in the early days of the zombie disaster. He reveals himself to be a scientist and he claims that he knows exactly what caused the creation of the zombie plague.
External links
Edit