Issue 49
Talk

0
3,306pages on
this wiki
Issue 49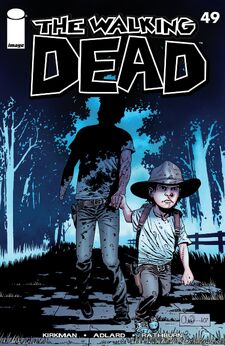 Release Date
May 14, 2008
Issue 49 is the forty-ninth issue of Image Comics' The Walking Dead and part one of Volume 9: Here We Remain.
Plot Synopsis
Edit
Michonne returns to The Prison, and upon finding Tyreese's undead decapitated head, she drives her sword through it, putting down animated Tyreese. She investigates the wreckage of Dale's RV, but finds nothing except a set of footprints leading away from the battle, which she then follows.
Rick and Carl Grimes are holed up in a nearby town. They investigate a local store, but are attacked by a zombie. Rick tries to drive his axe through its head, but is unable to penetrate its skull. Carl shoots the zombie after Rick lures it outside, and Rick asks him for his gun to dispose of another zombie. They hide in a nearby house, and Rick takes a huge dose of antibiotics. Carl finds him unconscious, with his eyes glazed over.
Goofs/Errors
Edit
External links
Edit