Issue 21
Talk

0
3,589pages on
this wiki
Issue 21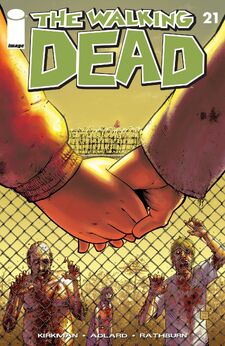 Issue 21 is the twenty-first issue of Image Comics' The Walking Dead and part three of Volume 4: The Heart's Desire.
Plot Synopsis
Edit
Allen is lifted out of the prison block by Rick, Tyreese, Dale, and Axel. Despite protests from the other survivors, Rick cuts Allen's foot off to save him from infection. Hershel then saves Allen's life by cutting a piece of Axel's hair and tying it to Allen's arteries to stop him from bleeding to death. Allen passes out and is carried into an empty cell to rest.
Carol is upset over the news of Allen's injury, and wants support from Tyreese. She proceeds to the gym, and through the gym's window, she sees Michonne giving Tyreese oral sex.
Later in the prison, Andrea observes Michonne talking in her cell to an imaginary person. Andrea confronts Michonne about this but Michonne says that she doesn't know what Andrea's talking about.
The survivors learn that a person who gets bit can be saved by amputating the infected area if they are quick enough.
References
Edit