Issue 18
Talk

0
2,398pages on
this wiki
Issue 18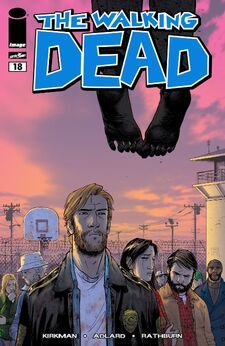 Issue 18 is the eighteeth issue of The Walking Dead and part six and the finale of Volume 3: Safety Behind Bars.
Plot Synopsis
Edit
Glenn and Tyreese, who were watching Thomas, decide to lock him in the freezer that the inmates had previously been using as a bathroom, in order to "Put the waste with the waste" as Glenn explains. Rick reminds them that the freezer is air tight so he will suffocate, and they remove him to be taken to the cell block.
Later, Patricia frees him but he then attempts to kill her. During the brief struggle, Patricia manages to call for help, and scratches Thomas, freeing herself. Unseen, Glenn and Maggie approach from behind, and Maggie unloads six rounds from her pistol into Thomas's back. Maggie confesses to the gathered survivors, "Now I feel a little better", and the survivors proceed to the main gate of the prison.
Hershel requests that Thomas' body be thrown to the zombies to be torn apart and eaten. The issue closes with Rick being disarmed and threatened by Dexter, Andrew, and Patricia at gunpoint. Dexter then tells Rick's group of survivors to leave The Prison.
In a Comic Book Resources interview, Robert Kirkman said, "There was a point in issue #18, I believe, where right up to the last minute Lori and Rick were plotted to get into a big argument and decide to split up. That was the plan for them since the beginning of the series. I was writing the pages and I was trying to steer the dialogue to where the plot needed it to go. I'd type Rick saying something and then Lori reacting and vice versa and I just could not get them to a place where splitting up was logical. It was like I wanted two people to break up--and they started being rational and agreeable to each other right in front of my eyes... and the scene came to a close with them still together. Weird stuff."
The cover for this issue is misleading, as Thomas is not hung, but rather shot by Maggie. However, the cover was presumably used to hint that Rick went through with his plan to hang Thomas.
The jacket that Amy wears every time she appears is seen hanging in Dale and Andrea's cell.
References
Edit