Issue 17
Talk

0
3,279pages on
this wiki
Issue 17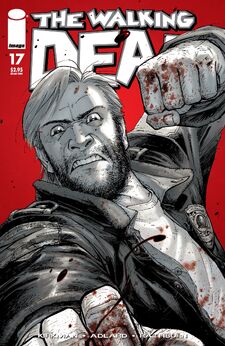 Issue 17 is the seventeenth issue of Image Comics' The Walking Dead and part five of Volume 3: Safety Behind Bars.
Plot Synopsis
Edit
While Andrea is in the laundry room, she is attacked by Thomas who has a knife, he is revealed to be the real murderer of Rachel and Susie Greene.
Carl and Sophia are talking about Allen, then Carl tells Sophia how he wants to be her boyfriend. Sophia then kisses Carl and he backs off.
Andrea then runs out of the Prison and into the yard where Rick saves Andrea and beats Thomas to the point where he breaks his own hand and destroys Thomas' appearance. Although Thomas didn't manage to kill Andrea, he did manage to cut her cheek and slice off her earlobe. After all the chaos, Rick introduces the new rule, "You Kill? You Die". After an argument about the new rule, Rick declares that they will hang Thomas.
Rick establishes his new rule, "You kill, you die".
References
Edit