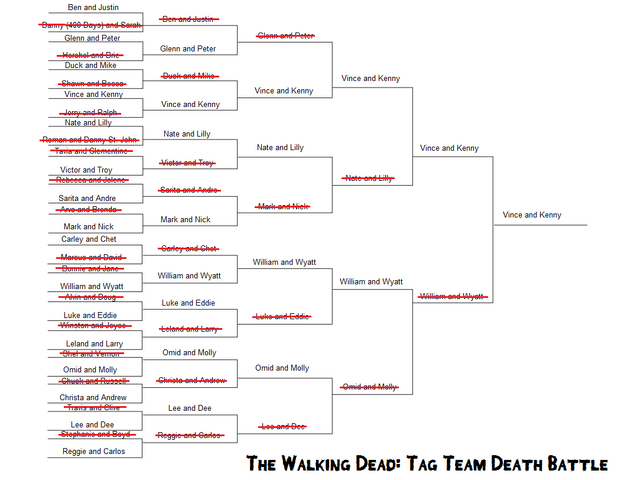 There is no description yet. Add a description.
Appears on these pages

of
Hello all, so as SilentGlaive has recently fired up her game of "Hurt and Heal", (which you can...

Marcus and David. They're all mostly just quick fodder characters, but I still never liked...

Glenn and Peter wins round two, now it's time for Duck and Mike to take on Shawn and Becca.
See full list >
File history
Click on a date/time to view the file as it appeared at that time.
Date/Time
Thumbnail
Dimensions
User
Comment
current
19:18, November 1, 2015
1,056 × 812

(53 KB)

RazorWolfz (Talk | contribs)
15:42, October 31, 2015
1,056 × 812

(53 KB)

RazorWolfz (Talk | contribs)
20:25, October 29, 2015
1,056 × 812

(52 KB)

RazorWolfz (Talk | contribs)
18:57, October 28, 2015
1,056 × 812

(52 KB)

RazorWolfz (Talk | contribs)
18:02, October 27, 2015
1,056 × 812

(51 KB)

RazorWolfz (Talk | contribs)
16:51, October 26, 2015
1,056 × 812

(51 KB)

RazorWolfz (Talk | contribs)
16:18, October 25, 2015
1,056 × 812

(50 KB)

RazorWolfz (Talk | contribs)
16:33, October 24, 2015
1,056 × 812

(49 KB)

RazorWolfz (Talk | contribs)
16:31, October 23, 2015
1,056 × 812

(49 KB)

RazorWolfz (Talk | contribs)
14:56, October 22, 2015
1,056 × 812

(50 KB)

RazorWolfz (Talk | contribs)
14:34, October 21, 2015
1,056 × 812

(50 KB)

RazorWolfz (Talk | contribs)
17:06, October 20, 2015
1,056 × 812

(49 KB)

RazorWolfz (Talk | contribs)
18:23, October 19, 2015
1,056 × 812

(49 KB)

RazorWolfz (Talk | contribs)
18:25, October 18, 2015
1,056 × 812

(48 KB)

RazorWolfz (Talk | contribs)
12:51, October 17, 2015
1,056 × 812

(48 KB)

RazorWolfz (Talk | contribs)
14:39, October 16, 2015
1,056 × 812

(48 KB)

RazorWolfz (Talk | contribs)
14:15, October 15, 2015
1,056 × 812

(48 KB)

RazorWolfz (Talk | contribs)
14:23, October 14, 2015
1,056 × 812

(48 KB)

RazorWolfz (Talk | contribs)
15:33, October 13, 2015
1,056 × 812

(47 KB)

RazorWolfz (Talk | contribs)
13:55, October 12, 2015
1,056 × 812

(46 KB)

RazorWolfz (Talk | contribs)
14:11, October 11, 2015
1,056 × 812

(40 KB)

RazorWolfz (Talk | contribs)
15:17, October 10, 2015
1,056 × 812

(38 KB)

RazorWolfz (Talk | contribs)
16:47, October 9, 2015
1,056 × 812

(36 KB)

RazorWolfz (Talk | contribs)
21:32, October 8, 2015
1,056 × 812

(35 KB)

RazorWolfz (Talk | contribs)
21:26, October 8, 2015
1,056 × 812

(32 KB)

RazorWolfz (Talk | contribs)
11:51, October 8, 2015
1,056 × 812

(32 KB)

RazorWolfz (Talk | contribs)
15:42, October 7, 2015
1,056 × 812

(30 KB)

RazorWolfz (Talk | contribs)
15:39, October 7, 2015
1,056 × 812

(30 KB)

RazorWolfz (Talk | contribs)
22:28, October 6, 2015
1,056 × 812

(28 KB)

RazorWolfz (Talk | contribs)
10:47, October 6, 2015
1,056 × 812

(26 KB)

RazorWolfz (Talk | contribs)
11:26, October 5, 2015
1,056 × 812

(24 KB)

RazorWolfz (Talk | contribs)
20:59, October 4, 2015
1,056 × 812

(22 KB)

RazorWolfz (Talk | contribs)
11:24, October 4, 2015
1,056 × 812

(20 KB)

RazorWolfz (Talk | contribs)
01:25, October 4, 2015
1,056 × 812

(16 KB)

RazorWolfz (Talk | contribs)
Metadata